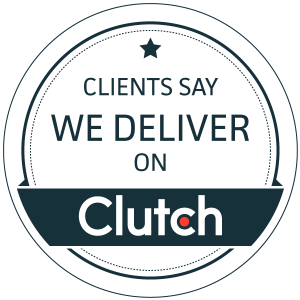 From developing mobile apps to creating exceptional IoT products, our team at moblers excels in delivering cutting edge technology and innovative ideas to our clients. Companies everywhere are in a race to stay ahead of the technological curve. We exist to help our clients navigate through the complicated and rapidly changing technological world, and to provide the right solutions for them to expand their businesses into the digital era.
When we work with our clients, we prioritize our efforts to building the right development programs that are catered specifically to their available resources, KPIs and their customer base to make sure that moblers deliver always. Recently, our work in the IOT and Edutech industries has caught the attention of Clutch, a D.C.-based agency which reviews various B2B tech firms around the world. Clutch's platform consists of rankings and lists of notable service providers, and we are proud to announce that our company is now included among the top mobile product developers in their 2019 research!
moblers deliver
Clutch provides objective ratings for every company on their site, helping buyers in search of a reliable business partner. The ratings they provide for each company reflect their ability to perform for their clients as well as their expertise in their industry. Not only is Clutch's platform a great tool for companies in search of partners, but it also provides us insight in how we compare to similar agencies.
We also like being on Clutch because it gives us the opportunity to hear directly from our business partners who actually take the time to speak with Clutch to share their experiences working with moblers and emphasizing that moblers deliver. The reviews we've collected so far are just another tribute to our overall growth as a leading digital development boutique. Take a look at the first one we have on our profile: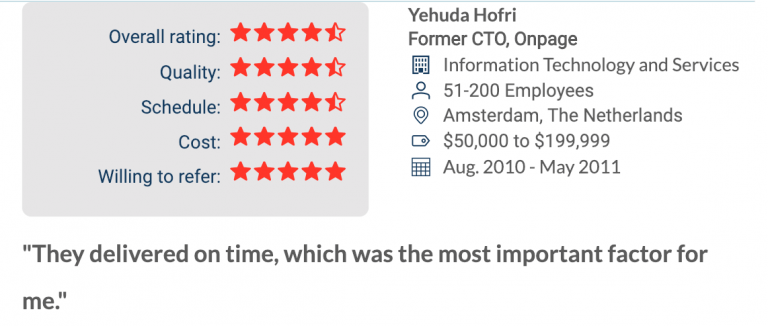 On top of being rated so favorably on Clutch, we rae excited that our high score and positive client relationships have allowed us to be featured on their sister-websites, The Manifest and Visual Objects! On these sites, we got listed as one of the top app developers in Israel, and our clients can learn more about why we're a talented firm by seeing visual examples of the quality products we've completed, because moblers deliver always.
At moblers we work hard to stay ahead of the digital curve so we can confidently and efficiently produce digital solutions that make our partners proud to work with us.
Reach out today if you'd like to get started on a new project!
moblers also has been featured as Top User Experience Agencies on DesignRush